National Volunteer Week was established in 1974, and we at NeedyMeds want to recognize our amazing volunteers that help make our work possible.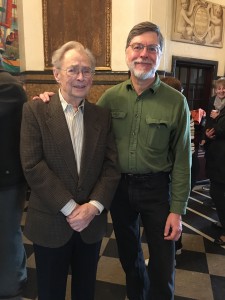 Our local volunteers are invaluable! They help us print and mail lists of medications for callers seeking help with several prescriptions (our call center helps with this information over the phone, but due to the volume of calls we receive we may mail you information for long lists of medications), update information in our databases, and help mail out the NeedyMeds Drug Discount Cards. Some of our earliest volunteers had been offered paid positions in the formative years of NeedyMeds, and our incoming volunteers are anyone from high school students seeking work experience to retired individuals looking for light office work. Our volunteers' ages range from 16 years to 97 years old. All take their work seriously and help make NeedyMeds the success it is.
More recently, we have started our Volunteer Ambassador Program (VAP) that allows interested advocates around the United States to help spread the word in their communities about NeedyMeds' resources. We have Volunteer Ambassadors all over the country—from Massachusetts to California; from Macon, Alabama to Homer, Alaska—who distribute NeedyMeds Drug Discount Cards, provide presentations of NeedyMeds resources for vulnerable populations and comprehensive trainings for organizations within their communities. Many are healthcare professionals or advocates, as well as students and members of other healthcare organizations. If you are interested in becoming a Volunteer Ambassador, contact us at outreach@needymeds.org.
We also have a board of directors comprised of volunteers with professional backgrounds in medicine, law, nonprofit management, and local government. Our board oversees the progress being made by NeedyMeds month-to-month as well as approving budgets, plans, and strategies.
National Volunteer Week is a time to celebrate the impact of volunteer service in our communities. With our network of volunteers, NeedyMeds is able to accomplish much more than we would as a small nonprofit. We applaud volunteers all over the country, and thank you all for your service.