The NeedyMeds Drug Discount Card is adding a new benefit for patients! The NeedyMeds Drug Discount Card can now be used to save 40% on durable medical equipment and diabetic supplies. Our new partnership with My Virtual Doctor allows patients to buy hundreds of items online at a discount when you enter a NeedyMeds Drug Discount Card ID at checkout. You can now use your NeedyMeds Drug Discount Card to save on:
Diabetic supplies — needles, syringes, meters, test strips, lancets and more;

Splints and braces for ankle, knee, wrist, back;

Catheters and incontinence supplies;

Bathroom safety supplies — commodes, grab bars, bath benches and more;

Compression stockings;

Mobility devices such as canes, crutches, walkers, wheelchairs;

Footwear — inserts, socks, slippers;

Bladder control pads;

and more!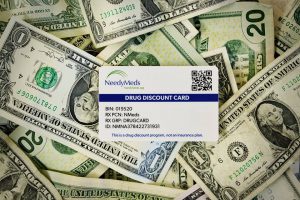 For over 10 years, the NeedyMeds Drug Discount Card has been helping patients afford their prescriptions. To date, we have saved patients over $280 million on the price of their medications. The free NeedyMeds Drug Discount Card can be used anywhere in the country at over 65,000 participating pharmacies including all of the major chains, to save up to 80% on the cash price of your prescriptions. There are no income or age restrictions. There is no activation or registration needed and no personal information is taken when using our card.
The only rule is that you can't combine insurance with the NeedyMeds Drug Discount Card. So if you're uninsured, you can use it any time you are purchasing a medication. If you have health insurance, the card can fill in the gaps in your coverage. For example, if you have any medications not covered under your insurance or if you have a high co-pay or deductible, you could try using the card instead of your insurance. You can also use the card on any over-the-counter or medical supplies your doctor writes as a prescription, as well as human-equivalent pet prescriptions you can pick up at a pharmacy.
There are many ways that you can make use of the NeedyMeds Drug Discount Card. You can order a plastic card on our website, download a printable PDF, or as a smartphone app. If you're an individual, you can use the card yourself and share it with your family and friends! One family could use the same card and it never expires. For more help finding information, check our website or call our toll-free helpline Monday-Friday 9am-5pm Eastern Time at 1-800-503-6897.