Tips from Consumer Reports Best Buy Drugs
With approximately 29 million Americans affected by diabetes, or 9.3 percent of the U.S. population, the costs associated with the disease are a growing problem. As of 2012, the total healthcare costs for diagnosed diabetes in the U.S. is roughly $245 billion, an increase of 41 percent since 2007, and according to the American Diabetes Association, a person with diabetes spends on average $13,700 per year on care.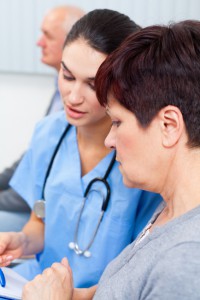 National Diabetes Month, held every November, is a time of year to raise awareness about diabetes prevention and treatment, and also to discuss how high care costs can undermine efforts to manage diabetes. That's why we're co-hosting a webinar with Consumer Reports Best Buy Drugs on "Lowering Costs for Type 2 Diabetes Care."
Detecting it early on is both lifesaving as well as money-saving. If you suspect you might have diabetes (read about symptoms here), schedule an appointment with your doctor right away and get tested.  If it turns out you do have diabetes, talk with your doctor about lifestyle changes, such as weight loss and dietary changes that can help you control the disease. Those measures can be as effective medication, especially in the early stages of diabetes and can result in lower long-term medical costs, from, for instance, insulin and other injectable diabetes drugs.
If you and your doctor determine that medication makes sense, we recommend trying metformin first. In recent years, a strong medical consensus has emerged in the U.S., Europe, and Australia that most newly diagnosed people with diabetes who need a medicine should first be prescribed this drug. If metformin fails to bring your blood glucose into the normal range, you may need a second drug – either glipizide or glimepiride are good options. These medicines are available as low-cost generics, costing from $4 to $35 a month, and work just as well as newer classes of diabetes drugs. In fact, a number of the newer drugs do not lower blood sugar as well as metformin, glipizide, or glimepiride.
For more cost-saving tips on managing diabetes, including saving money on your medications, join our free webinar this Thursday at 2pm Eastern time. Click here to register.
– Ginger Skinner
Ginger Skinner is a writer for Consumer Reports Best Buy Drugs, a public education project dedicated to helping you talk to your doctor about prescription drugs, and helping you find the most effective and safest drugs for the best price. To stay up to date on Best Buy Drugs news and advice, connect with them on Facebook, Google+, andTwitter, and sign up for the free monthly e-alerts.