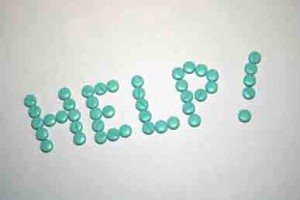 Treatment and other diabetes-related costs can be expensive.   According to the American Diabetes Association the total costs of diagnosed diabetes was  $245 billion in 2012, with $176 billion in direct medical costs.  "People with diagnosed diabetes incur average medical expenditures of about $13,700 per year, of which about $7,900 is attributed to diabetes. People with diagnosed diabetes, on average, have medical expenditures approximately 2.3 times higher than what expenditures would be in the absence of diabetes."
Here are 5 ways available to find help with these costs on the NeedyMeds website.
1.     Apply for free or reduced prescription medications through a Patient Assistance Program (PAP).
How they work:
→ PAPs are run by pharmaceutical companies and provide free or discounted medicines to those who qualify.
→ Eligibility and application requirements vary from program to program, usually based on income and insurance.
How to find them:
→ To find out if there's a PAP available for your medication, click on the Brand Name Drugs or Generic Name Drugs links and look up your medication alphabetically.
→ If you do find your medication, click on it and you will be able to look over any assistance programs that are available for that medication.
How to get enrolled:
→ Most PAPs require that you fill out an application, sign it and you may also have to attach proof of income or residence.
→ The health care provider prescribing the medication will need to be involved, either faxing in a prescription or signing the application.
→ If accepted into the PAP, you will be mailed the medication to either your home, to the doctor's office, or to the health care facility.
2.     Find a Diagnosis-Based Assistance Program that might help with the costs associated with specific diagnoses, including non-medication related costs.
→ Visit this section of our website and click on Diagnoses List, then look up Diabetes to find out about all of the national, regional and local programs that may be able to help with costs such as testing, supplies, living expenses and travel.
→ You may also find help by looking up other disease categories such as Diabetic Retinopathy, Juvenile Diabetes, or Chronic, Serious or Life Threatening Illnesses.
3.     Visit the Coupons, Rebates & More section and look up your drug alphabetically to find a rebate, discount, copay card or even free trial size of a prescription or over-the-counter medication.
4.     Find low-cost heath care by visiting our Free/Low-Cost Clinics section to find a facility near by to you that may be able provide medical, dental and women's health services among others.
5.     Use the free NeedyMeds Drug Discount Card to save up to 80% on your prescription medications, over the counter medications written as a prescription or pet prescriptions that can be purchased at a pharmacy.
How It Works
→ It can be used immediately as there is no registration or activation.
→ Simply present the card to the pharmacist, along with your prescription, at over 63,000 participating pharmacies across the country including all of the major chains.
Who Can Use the Card?
→ Anyone can use the card.
→ The only rule is you can't combine it with insurance.
→ If you do have insurance, you can use the card instead of your insurance if you have any medications not covered under your insurance, if you have a high co-pay/deductible or if you're in a coverage gap like the donut hole.
→ To get your own card, print a downloadable card from the website or send a self addressed stamped
envelope to the address below to get your free card:
NeedyMeds Drug Discount Card
P.O. Box 219
Gloucester, MA 01931
The Lesson
Many of these programs and resources can help more than just the low-income and uninsured. PAP eligibility can go up to 500% of Federal Poverty Level, which is an income of $117,750 a year for a family of four. Living with a chronic disease, such as Diabetes, can be very expensive. Whether you have high-priced medications, are struggling to afford some of your other diabetes-related costs, or just need some assistance with general living expenses, there may be help available. The key is knowing where to look for the assistance.
Still Have Questions?
E-mail info@needymeds.org
Call the NeedyMeds Toll-Free Helpline: (800) 503-6897