Over 7 million previously uninsured Americans gained health coverage in 2015 as a result of the Affordable Care Act (ACA, aka ObamaCare). In a previous blog post, we showed the impact the ACA had since its full expansion in 2014.   Since then, the uninsured rate has dropped to single-digits with 9.1% Americans remaining uncovered by insurance, a decline of 2.4% since last year.
The Affordable Care Act has been criticized by Republicans and has led to multiple attempts to repeal the health care law or states refusing to expand Medicaid to help the poorest uninsured Americans.  States that have expanded Medicaid are seeing uninsured rates for adults 18-64 years of age around 9.8% compared to 17.5% for non-expansion states. Data from the Center for Disease Control and Prevention shows that 16.2 million fewer Americans are uninsured since the end of 2013.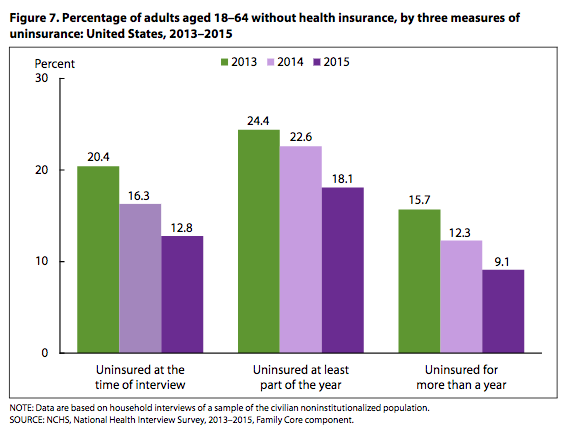 NeedyMeds' mission is to help those facing the high costs of health care, no matter what comes of the ACA. For those unable to afford their medications, NeedyMeds has an extensive database of Patient Assistance Programs (PAPs). NeedyMeds also has information on Coupons and Rebates that can help lower the cost of necessary medications. For those without any prescription coverage, the NeedyMeds Drug Discount Card saves 0-80% on any prescribed medication. A plastic card can be ordered online or requested by calling our toll-free helpline at 800-503-6897, or a printable version can be found on our website as well as a smartphone app on Apple and Android device.  NeedyMeds also has information on over 14,000 free, low-cost, sliding scale clinics around the country. Search your zip code for locations in your area.