More than half a million Americans had prescription costs over $50,000 in 2014—a 63% increase from the previous year. The increase is associated with doctors prescribing more expensive specialty drugs for diseases such as cancer or hepatitis C. The increase of American patients spending over $100,000 has nearly tripled from 47,000 in 2013 to an estimated 139,000 Americans in 2014.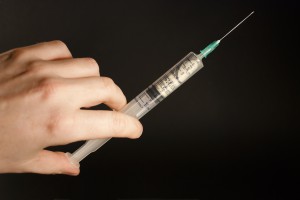 There are many details in the report done by Express Scripts, the largest US pharmacy benefit manager. About 60% of patients spending over $100,000 were prescribed at least 10 medications, and 72% had scripts written by at least four different prescribers. The highest increases in costs are related to expensive new hepatitis C cures being introduced, with the number of patients receiving treatment for hep C increasing 733% in 2014. Of Americans spending over $100,000, 32% were taking cancer medications—several of which were approved in recent years. Some of the new drugs for hepatitis and cancer can cost upwards of $90,000 alone. Anti-depressants are among the most widely prescribed specialty medicines.
Health insurance covered an average of 97% of patients prescribed at least $50,000 worth of medications in 2014. By contrast, patients with less than $1000 in prescription costs paid up to 35% of the cost out-of-pocket. The report looked at prescription drug claims of 31.5 million Americans with commercial health insurance or coverage through a federal or state program.
The growth of patient populations threatens the affordability of medical coverage for patients. If one is uninsured, the likelihood of covering similar expenses can be very slim. For those facing high prescription costs, NeedyMeds offers our Drug Discount Card (also available as a smartphone app) as well as information on pharmaceutical Patient Assistance Programs (PAPs) that may provide medications at low- or no-cost.  Go to NeedyMeds.org or call our toll-free helpline at 800-503-6897.