Patient Assistance Program F.A.Q.
Here at NeedyMeds we are dedicated to providing information on how to save money on your medications and other health-related costs. One of our primary resources is our database of Patient Assistance Programs. Today we answer some of the most frequently asked questions about Patient Assistance Programs. If you have any questions that are not covered here please leave us a comment and we will get you an answer!
What is a PAP? – Patient Assistance Programs are usually run by pharmaceutical companies to help uninsured and underinsured patients get their medication at free or low-cost. For more information on applying to a PAP read our previous blog post Applying to a Patient Assistance Program.
What are the requirements for a PAP? – Every program is different but most require personal information including your full name, address, date of birth, and social security number. They also generally require information from your doctor including their contact information and a valid prescription. Some programs also require a diagnosis and information on household income. When using NeedyMeds you can find the program's requirements listed on the program information page.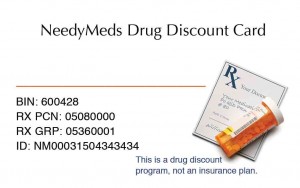 It doesn't look like I qualify for a PAP – what are my options? – If you don't initially qualify for a Patient Assistance Program, we recommend contacting the program anyways. In many cases the program will make an exception. If you are still unable to enroll in the program look and see if there is a coupon or rebate available. You can also use the free NeedyMeds Drug Discount Card, which has saved some users up to 80% on the cost of their medication.
There is no PAP for my medication, what should I do? – Contact the company that makes the drug and see if there are any assistance options available, sometimes they may be willing to help and it never hurts to ask. Otherwise look for coupon or rebate, or use the NeedyMeds Drug Discount Card.
I need help applying, is there anyone who can help? – There are a number of organizations and groups that help people with the patient assistance program application process. You can find those organizations listed here. They are searchable by both state and zip code. If there is not an group to help in your area a relative or friend may be able to help.
What can I do to get my medication faster? – We always recommend that you call the program first, and review what information is necessary on the application. Make sure your application is 100% completed, as incomplete applications can significantly delay the time to get your medication. Also ask if you could fax or e-mail the application, and if so give a follow up call to ensure it was received.
I sent in my application two weeks ago and have not heard anything, what should I do? – Contact the program and confirm they received your application – it may have been lost in the mail. Your application may also have been incomplete. Many of these programs' call centers are extremely busy, so remember to be patient.