This past Mother's Day launched the 23rd annual National Women's Health Week. Led by the U.S. Department of Health and Human Services (HHS) Office on Women's Health, the goal is to empower women to make their health a priority and raise awareness of the steps one can take to improve their health.
The Centers for Disease Control and Prevention (CDC) recommends many common measures such as proper health screenings, staying physically active, eating healthy, and promoting other healthy behaviors. Healthy behaviors include getting enough sleep, being tobacco-free, washing your hands, not texting while driving,  wearing a seatbelt, a bicycle helmet, or sunscreen when appropriate, and masks when social distancing isn't possible. The Office on Women's Health website has specific suggestions for women through their 20s to their 90s.
Women remain an underserved community with unique healthcare costs that are often overlooked by those drafting insurance guidelines. Women can face difficulty accessing healthcare, being believed or taken seriously by healthcare providers, and report forgoing healthcare services more than men. Maternal mortality, women dying of complications of pregnancy or childbirth, is increasing in the United States and is four to six times higher than in many European countries. The CDC reports a figure of 17.4 per 100,000 births — or 658 women per year — with an enormous racial discrepancy. The rate is 14.7 per 100,000 for white women and 37.1 for Black women.
Women's Health Week recognizes the health of all women, including transgender women. Transgender people can face significant barriers when accessing healthcare. Finding a healthcare provider who is knowledgeable of transgender health issues can be a hurdle in itself. Even after finding a knowledgeable and sympathetic healthcare provider, insurance may not cover the cost of treatment despite the Affordable Care Act (ACA) protecting against discrimination based on gender identity. Many transgender people are on a dosage of hormones that can affect one's blood pressure, blood sugar, or in rare cases contribute to cancer. Some cancers found in transgender people can appear atypical; for example, trans women can be diagnosed with prostate cancer.
COVID-19 has affected all facets of healthcare. Women are more likely to have gone without healthcare during the pandemic and face health and economic challenges prior to the pandemic have experienced worsening health conditions as a result of skipping health care services during the pandemic. There are also concerns with increased domestic abuse. Every year, more than 10 million Americans experience domestic violence, and the pandemic and isolation necessary to combat it may have driven those numbers even higher.
The COVID-19 pandemic has had a discouraging effect on women's reproductive freedom. The bipartisan Coronavirus Aid, Relief, and Economic Security Act (CARES Act) included an unnecessary extension of harmful restrictions on abortion funding, as well as language that cuts Planned Parenthood and other abortion providers out of funding opportunities through small business loans — denying vital support for frontline healthcare providers serving some of the most vulnerable communities over the past two years.
Reproductive freedom is a civil right and abortion is an essential part of healthcare. Despite that, several states have passed restrictive anti-abortion legislation in recent months and the U.S. Supreme Court is all but confirmed in its intent to overturn Roe v. Wade. Multiple studies indicate that the inability to receive abortion care places pregnant individuals further into poverty and harms their health as well as the well-being of their current and future children. Many people lack the means and access to decide whether to continue a pregnancy — particularly communities of color, LGBTQIA people, and residents of rural areas.
Approximately one in five people capable of getting pregnant will have an abortion by age 30, and one in four by age 45. Regardless of age, race, income, education level, or parental status, there are innumerable reasons why people seek abortions: 
40% lack financial resources; 

31% have an abusive/non-supportive partner;

29% need to focus on other children;

19% for emotional/mental health concerns; 

12% for physical health concerns; 

12% "want a better life for the baby than they could provide;"

An estimated 5% of all pregnancies are a product of rape

.
If Roe v. Wade is overturned abortion will immediately become illegal in Arkansas, Idaho, Kentucky, Louisiana, Mississippi, Missouri, North Dakota, Oklahoma, South Dakota, Tennessee, Texas, Utah, and Wyoming due to established "trigger laws." Several more are likely to swiftly pass restrictive and harmful laws. People will be facing forced birth in a country with the highest maternal mortality rate, where pregnancies and newborn care for the uninsured costs an average of $30,000 to $50,000 (without complications), with no guaranteed paid maternity leave, no universal/subsidized child care, no continued birth/parent care, and frequently inaccessible mental health care. Pregnant people will die as a result.
Abortion is life-saving treatment for multiple conditions. Ectopic pregnancy, septic uterus, and certain miscarriages are fatal to the mother if not treated with an abortion. In some states, even naturally occurring health outcomes will be criminalized. Last month, a woman in Texas was charged with murder for after having a miscarriage (the charges were later dropped). In Alabama, a woman was arrested for losing a pregnancy after being a victim of gun violence. Miscarriages are almost never preventable, yet state fetal protection laws can make pregnant people criminally responsible for them. Some even require medically impossible procedures to "save the pregnancy." These laws treat pregnant people as host bodies without autonomy or equal rights and cause profound distress to people having physical health complications and families suffering a deep personal loss.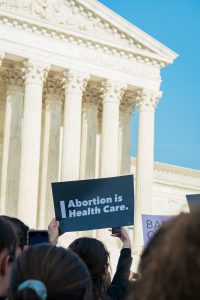 The politicization of access to safe and legal abortion care has created a false hierarchy of need and importance that runs along existing fault lines of racial and income inequity, mimicking what access to abortion care looked like before Roe v. Wade. As prior to the landmark case, individuals with wealth and power will never lack access to abortions when they need them while low-income and marginalized people — who make up 75% of abortion patients — will have their essential healthcare criminalized.
The United Nations views abortion bans as a violation of several rights guaranteed under international law; Amnesty International and the International Criminal Court (ICC) consider forced pregnancy a crime against humanity. The choice to carry a pregnancy to term and become a parent is a deeply private and personal one. Taking away a person's right to make the decision for themselves puts freedom further out of reach for millions of Americans, and relegates pregnant people to second-class citizens who can have their bodily autonomy taken from them. Women and trans people are not equal in society if they cannot make the choice to not be pregnant. Personal or religious objections to a safe, standard medical procedure should not be allowed to dictate the terms of another person's healthcare. Abortion should be accessible on-demand and without apology for all who need them.
Even states that have codified the right to abortions could face a nationwide prohibition on the essential healthcare service if anti-abortion authorities gain control additional branches of government. We encourage all eligible Americans to register to vote and participate in local and national elections. To further engage in the legislature, contact your elected representatives to make your voice heard. Call 202-224-3121 to reach the U.S. Capitol switchboard; from there you can be connected to your elected Congressional Representative or Senator's office. Women's March protests are also being organized nationwide. Demand Congress pass the Women's Health Protection Act (WHPA). The Senate is voting on the WHPA on Wednesday, May 11th.
At the time of publication, abortion is still legal in all 50 states. NeedyMeds will always support people seeking affordable healthcare — including abortions. Our database of over 18,000 free, low-cost, or sliding scale clinics has more than 7000 of which offer women's health services including over 450 Planned Parenthood locations. Assistance for women's health can also be found in our Diagnosis-Based Assistance database by searching for conditions that affect the women in our lives, including some that offer various forms of assistance for women seeking an abortion and for those affected by COVID-19. For more resources, check our website at www.Needymeds.org or call our toll-free helpline at 1-800-503-6897 9am to 5pm Eastern Time Monday through Friday.
For more information on how to protect abortion access, click here.