Reproductive freedom is a civil right and abortion is an essential part of healthcare. Approximately one in five people capable of getting pregnant will have an abortion by age 30, and one in four by age 45. Multiple studies indicate that the inability to recieve abortion care places pregnant individuals further into poverty and harms their health as well as the wellbeing of their current and future children. Many people lack the means and access to decide whether to continue a pregnancy. Limits on federal funding for abortions cause significant harm to low-income people — particularly communities of color, LGTBQIA people, and residents of rural areas.
The ability to access abortion in a timely manner is critical to the health and safety of individuals seeking care. Delays in access increases the risk that a person may experience a medical complication and negatively impacts their social, emotional, and psychological well-being overall. Abortions later in pregnancy also cost more than procedures performed at earlier gestational ages. The average cost of surgical abortion was approximately $495 in the first trimester as compared with $2,225 at twenty weeks of pregnancy. Delays in obtaining care are likely to create dire obstacles in obtaining any care at all for those with limited financial resources.
The COVID-19 pandemic has had a discouraging effect on women's reproductive freedom. The bipartisan Coronavirus Aid, Relief, and Economic Security Act (CARES Act) included an unnecessary extension of harmful restrictions on abortion funding, as well as language that cuts Planned Parenthood and other abortion providers out of funding opportunities through small business loans — denying vital support for frontline healthcare providers serving some of the most vulnerable communities over the past eighteen months.
A newly enacted law in Texas has become the most restrictive anti-abortion law in the country with likeminded state legislatures poised to copy following inaction from the Supreme Court. The United Nations views the state's near-total abortion ban as violating a number of rights guaranteed under international law, and Amnesty International along with the International Criminal Court (ICC) considers forced pregnancy as a crime against humanity. President Biden has pledged a "whole of government" response to the unconstitutional and harmful ban on abortion services in Texas. The U.S. Department of Justice has filed a lawsuit and asked federal judges to block enforcement of the law, as it deputizes ordinary citizens to police the healthcare of women in their communities and empowers them to sue patients, healthcare providers, or anyone who assists for monetary damages — effectively turning anti-abortion plaintiffs into bounty hunters. The Supreme Court is currently scheduled to hear a separate challenge to Roe v. Wade from Mississippi in December.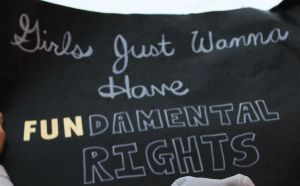 The politicization of access to safe and legal abortion care has created a false hierarchy of need and importance that runs along existing fault lines of racial and income inequity, mimicking what access to abortion care looked like before Roe v. Wade. As prior to the landmark case, people with wealth and power will never lack access to abortions when they need them while low-income and vulnerable women — who make up 75% of abortion patients — will have their healthcare criminalized.
NeedyMeds is a diverse workplace with people of varying backgrounds and views. While NeedyMeds does not endorse any candidate or party for any office, it should be clear that our organization supports access to affordable healthcare — including abortion services — for all who need it. We encourage all eligible Americans to register to vote and participate in local and national elections to see their values are represented in government. To further engage in the legislature, contact your elected representatives to make your voice heard. Call 202-224-3121 to reach the U.S. Capitol switchboard; from there you can be connected to your elected Congressional Representative or Senator's office. You can find information for your local and state elected officials by searching online.
NeedyMeds has a database of over 18,000 free, low-cost, or sliding scale clinics, more than 7000 of which offer women's health services including over 450 Planned Parenthood locations. Search your ZIP code for clinics in your area, and find Women's Health in Services under the Details heading to find free or low-cost medical attention. Assistance for women's health can also be found in our Diagnosis-Based Assistance database by searching for conditions that affect the women in our lives, including some that offer various forms of assistance for women seeking an abortion and for those affected by COVID-19. For more resources, check our website at Needymeds.org or call our toll-free helpline at 1-800-503-6897 9am to 5pm Eastern Time Monday through Friday.
To support women in Texas, there are many organizations fighting for reproductive freedom within the state and throughout the country.