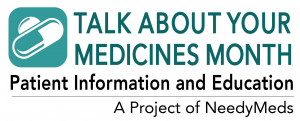 October has been observed as Talk About Your Medicines Month (TAYMM) for 35 years. Started by the BeMedWise Program at NeedyMeds (formerly known as the National Council on Patient Information [NCPIE]), the awareness month is an annual opportunity to spotlight safe medicine use with the goal of improved health outcomes. This year's theme is Medication Adherence – On Track With Your Meds and Your Health. Medication adherence is a vital part of maintaining your health. Our goal is to empower patients to maximize the benefits while minimizing the risks of the medications they are taking, and provide the tools they need to talk about their medicines.
Medication adherence has been called America's "other drug problem." Nonadherence can lead to illness progression, severe complications, and preventable deaths. Nonadherence includes anything from delaying or not filling a prescription, skipping doses, splitting pills, to stopping a medication early. Not taking medication as directed can lead to poor health outcomes which then increases healthcare service utilization and overall healthcare costs.
Studies have shown that approximately 50% of patients with chronic conditions do not take their medications as prescribed. Poor adherence is linked to approximately 125,000 deaths a year in the United States as a result of not taking their medicine as directed. Approximately one-third of medicine-related hospital admissions in the U.S. are linked to non-adherence. Between $100 and $300 billion of avoidable healthcare costs have been attributed to nonadherence in the U.S. annually, representing 3% to 10% of total U.S. healthcare costs. It has been estimated that health-related productivity loss costs are 2.3 times higher than the direct healthcare costs.
There are several common barriers to medication adherence. The inability to pay for medications being the most prevalent in the United States, barriers also include difficulty keeping up with multiple medications and complex dosing schedules, disbelief that a treatment is necessary or helping, and confusion about how and when to take the medication all contribute to patients not adhering to their prescriptions. As former Surgeon General C. Everett Koop said, "Drugs don't work if patients don't take them."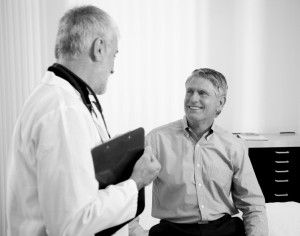 Adherence hinges on the patient's ability to understand basic health information and fully comprehend the consequences of their decisions. Communication is essential. Patients benefit from being proactive in asking questions and seeking information about their medicines, and healthcare providers must be able to share information with their patients in a way they are able to understand. Healthcare providers and pharmacists should use all of the tools at their disposal to open the lines of communication with all their patients. Likewise, patients shouldn't hesitate to ask questions or be resistant to new information. When patients better understand their conditions and know the appropriate way to manage their medications, they are more likely to adhere to treatment regimens and experience better outcomes.
Pharmaceutical companies often offer their medications at low or no cost through Prescription Assistance Programs for patients that meet their eligibility guidelines (based on income, insurance status, etc). Other nonprofit and state-run programs can also help with the costs of medications based on diagnosis or where you live. NeedyMeds has links and information to these programs and much more. For those having trouble managing multiple medications, NeedyMeds Storylines is a free self-care app that makes it easy for you to track and manage your health conditions, featuring medication reminders and mood/symptom trackers.