Today is International Women's Day. International Women's Day started in 1908 when 15,000 women marched through New York City to demand shorter hours, better pay, and voting rights after being oppressed and mistreated in the workplace since the industrial revolution. The movement spread across the globe in the following years, reaching Europe by 1910 and Russia by 1913. International Women's Day was officially recognized by the United Nations in 1975.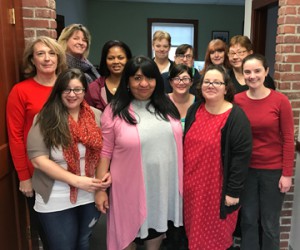 Women's health is an important part of International Women's Day. Women remain an underserved community with unique healthcare costs that are often overlooked by those drafting insurance guidelines. In a previous blog post, we explored how Planned Parenthood has provided low-income men and women with affordable care including cancer and STI screening, pre-natal care, and help finding further assistance through grants or government programs. Since then, funding cuts and new state laws forcing Planned Parenthood clinics to close has dropped the number of people screened for cancer by nearly 250,000.
A newly proposed replacement for the Affordable Care Act (ACA; aka Obamacare) includes cutting off federal funding to Planned Parenthood because they also provide abortions, despite the fact that abortions make up only 3% of Planned Parenthood's services and zero federal funds go towards paying for abortions. Federal funds make up 60% of Planned Parenthood's budget, of which most comes as reimbursement from Medicaid for routine coverage such as cancer/STI screenings and maternity healthcare. It is estimated that these cuts would cause 390,000 women to lose access to affordable care and up to 650,000 could have reduced preventative care within a year. The new healthcare law also plans to cut funding from any private insurance company that offers abortions, which would force women to pay out-of-pocket for a procedure that can cost upwards of $500-$1000. We'll have more on the new healthcare law being proposed next week.
NeedyMeds has many resources for women's health. In a previous blog, we outlined the National Breast Cancer and Cervical Cancer Early Detection Program (NBCCEDP), that provides cancer screening for uninsured or underinsured women who earn less than 250% of the Federal Poverty Level. The program also provides assistance for women who are diagnosed with cancer through the program. Each state has their own program that can be found through NeedyMeds' State-Sponsored Programs database.
NeedyMeds has a database of nearly 15,000 free, low cost, or sliding scale clinics, over 4000 of which offer women's health services, including 500 Planned Parenthood locations. Search your ZIP code for clinics in your area, and find Women's Health in Services under the Details heading to find free or low-cost medical attention.  Assistance for women's health can also be found in our Diagnosis-Based Assistance database by searching for conditions that affect the women in our lives.
For those unable to afford their prescriptions, NeedyMeds has an extensive database of Patient Assistance Programs (PAPs). NeedyMeds also has information on Coupons and Rebates that can help lower the cost of necessary medications. For those without any prescription coverage, the NeedyMeds Drug Discount Card saves 0-80% on any prescribed medication. A plastic card can be ordered online or requested through our toll-free helpline, or a printable version can be found on our website as well as a smartphone app on Apple and Android devices.
For more resources check our website at Needymeds.org or call our toll-free helpline at 1-800-503-6897, open Monday through Friday 9am to 5pm Eastern Time.