Medication prices continue to be a major concern for many Americans.  Recent months have seen a deluge of stories of drugs with $100,000+ price tags.  A 2015 poll found that a third of patients saw a price increase in their medications last year.  The problem is that these price increases have different causes, making it difficult to solve all the issues.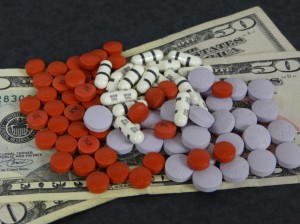 With advances in science we have seen development of new, highly successful drugs sometimes costing as much as $1000 per pill.  These prices are often seen as justified when researchers look at the benefits of a curative versus the potential long-term cost of living with a condition and less effective treatments.  This is frequently called "value pricing." The companies that develop these drugs reap profits for the medications patent life (typically 7-12 years) until generic medications are able to enter the market at more affordable prices. The question that remains is whether these exceedingly high prices and several years of wait are worth some patients not being able to afford a medication that could cure them.
The problems of expensive effective brand-name drugs are exacerbated by "pay-for-delay" deals designed to keep a generic medication off the market, extending the brand-name's monopoly on the formula.  Brand-name drug-makers have been known to functionally pay off several generic manufacturers to drop patent challenges and stop the development of lower-cost alternatives. A 2013 Supreme Court ruling found that existing antitrust laws apply to these deals and has limited the number of pay-for-delay deals being made, but the Federal Trade Commission (FTC) still considers this one of their top priorities.
One of the larger stories of the past year was the dramatic increase of formerly inexpensive generic medications.  The strategy works for pharmaceutical companies that may acquire the rights to a certain formula because there is too little competition for each medicine or molecular compound.  This is in part due to a three-year wait period for manufacturers of generic drugs to be approved by the FDA, creating possible monopolies and reducing competition while patients struggle to get the medication that may have been affordable a year prior.
Being an election year, a Kaiser Health Tracking Poll shows health care ranks fourth in the issues voters most want to hear candidates discuss in their campaign, particularly concerning the Affordable Care Act (ACA) and health care costs.  NeedyMeds exists to help those struggling with the high costs of medicine and medical care. Our site has databases of Patient Assistance Programs (PAPs) that offer brand-name or generic drugs for low- or no cost. You can search your medication in the Drug Search on the NeedyMeds website, or call our toll-free helpline (800-503-6897).