As a consumer, purchasing clothing, books, and furniture – even groceries – over the Internet is commonplace.  Online shopping is convenient and products are delivered directly to your door.  But, despite the ease of use, purchasing products like medication over the Internet can be dangerous, if not deadly.
"Medications" purchased from illegal online drug sellers are often not what patients expect.
These products have been found to contain dangerous substances including powdered concrete and antifreeze.[i]  Additionally, prescription drugs, if taken without a prescription from a patient's doctor, lack the necessary and appropriate medical supervision. Drug overdose was the leading cause of injury death in 2010. Among people 25 to 64 years old, drug overdose caused more deaths than motor vehicle traffic crashes.[ii]  Accidental overdose is increasingly common when using drugs online.
Did You Know? It is very difficult – if not impossible, to tell which websites are legitimate.  Can you spot the fake? [iii]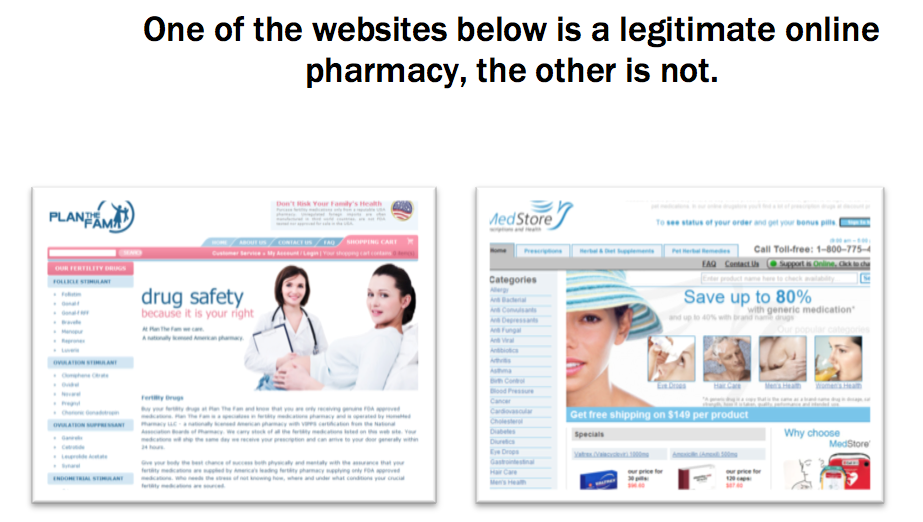 The Result: Any patient can fall victim to these criminals, putting their life at risk.
Did You Know? Illegitimate online drug sellers can easily bypass patient safety laws and regulations.  For the most part, they are not located in the United States, yet these sellers target US consumers. Plus, there is no federal law specifically addressing Internet sales of non-controlled prescription medicines. These criminals take advantage of this circumstance to make law enforcement more difficult.
The Result:  Many illegal online drug sellers remain in business.
What is Being Done About It? The Work of the Alliance for Safe Online Pharmacies
The Alliance for Safe Online Pharmacies (ASOP) believes patients deserve safe medicines whether purchased online or offline.  Protecting patient safety and ensuring patient access to safe, approved medicine through legitimate law-abiding pharmacies is a critical public health issue.  That is why ASOP works with policymakers, nonprofits, and domestic and international organizations to help educate consumers and advocate for effective means to protect consumers from the risks posed by illegal online drug sellers. NeedyMeds is a proud member of ASOP.
While there are many legal online pharmacies that adhere to safety standards, the nature of the Internet has opened the door to thousands of criminal or rogue Internet sites posing as legitimate pharmacies and selling potentially unsafe medicines. Recent studies found nearly 97% of all online drug seller sites are operating illegally!
The criminals that peddle unsafe medicines over the Internet won't stop on their own. Some reports show these sites make many millions of dollars a month, and the anonymous and international nature of the Internet makes the criminals difficult to prosecute. Simply put, the profits that rogue "pharmacy" websites can make are too high and the risks too low.
As long as patients are at risk of receiving dangerous, illegitimate products through rogue websites; ASOP will work to protect patients.  But everyone has a role to play in making the Internet safer, including public health organizations, trade associations, health professionals, policymakers, law enforcement, industry, and patients like you.
•  Get Informed: learn more about online pharmacies at www.safeonlinerx.com
•  Be Smart: Avoid websites that:
*allow you to buy prescription medication without a prescription or merely by completing an online questionnaire
*send unsolicited emails or regular mailings offering cheap medicines
*offer "too good to be true" discounted drug prices
*offer to ship prescription drugs worldwide
Want to learn  more? Contact ASOP at www.safeonlinerx.com and info@safeonlinerx.com

The Alliance for Safe Online Pharmacies (ASOP) a nonprofit organization dedicated to protecting patient safety globally and ensuring patient access to safe and legitimate online pharmacies in accordance with applicable laws.
---
[i] The Partnership for Safe Medicines http://www.safemedicines.org/consumer_resources.html
[ii] CDC, http://www.cdc.gov/homeandrecreationalsafety/overdose/facts.html
[iii] The pharmacy on the left, Plan The Fam, is a legitimate, VIPPS accredited pharmacy