By Brenda Hawkes, Patient Advocacy Manager, and Justine Dolorfino, Social Media Specialist & Communications at Diplomat Specialty Pharmacy
If you have a prescription to treat a serious disease or condition such as HIV, psoriasis, or cancer, chances are that you get your medications through a specialty pharmacy. You may have wondered what the 'specialty' in the title means and why that makes a difference.  We can help explain that here.
What Is A Specialty Pharmacy?
Specialty pharmacy is a branch of pharmacy care that helps people with special and often long-term needs. These people include those with conditions like cancer, multiple sclerosis or HIV, as well as people with fertility issues or who've received a transplant. Specialty pharmacy care allows people to continue leading lives outside a hospital, with better outcomes and lower overall costs.
To treat these diseases and conditions, specialty pharmacies focus on specialty and limited-distribution drugs, which require special handling, storage, and dosing.  These treatments are often expensive, and typically, they're offered only at specialty pharmacies with the resources to support patients at every step.
For example, if you are prescribed a specialty or limited-distribution medication, you may need help with insurance, co-pay coverage gap and side effect management. A specialty pharmacy's on-staff professionals can lend support, guide the patient through the process of getting and taking their medication, and offer their clinical expertise.
Some specialty pharmacies are also known as full-service pharmacies. This means that in addition to the specialty medications that we just mentioned, the pharmacy will also fill prescriptions for other medications.
The Need For Funding Assistance
Unfortunately, due to the high costs of research and development, specialty and limited-distribution medications can be very expensive. The out-of-pocket co-pay and co-insurance costs can range from $2,000 to even $15,000 a month.
Many foundations and grants exist to specifically help with that problem. But searching for funding assistance can be a very complex and overwhelming process. To help, some specialty pharmacies even include a funding department staffed with experts in finding financial assistance.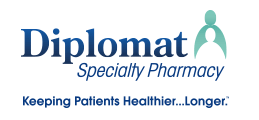 At Diplomat — the largest independent specialty pharmacy in the United States — we have 16 funding specialists working to help patients find assistance. In 2012, we helped patients track down more than $19 million to help cover high co-pays.
We're looking forward to explaining the funding assistance process in more detail in our next post. In the meantime, though, we'd love to hear from you about specialty pharmacy and answer any questions that you have about our patient services and co-pay assistance. Please feel free to email or call us at 1.877.977.9118 for more information. Or, to learn more about our funding assistance services, fill out our confidential online form at our website.