For more than 30 years, October has been National Breast Cancer Awareness Month in the US. Breast cancer is the second most common cancer among women, second only to skin cancer. With more than 200,000 women diagnosed each year, awareness can save lives through early detection and lowering risk.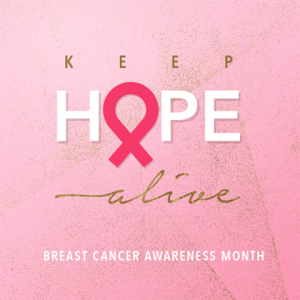 The main risk factors of breast cancer include being a woman and being older, which means almost any woman can be diagnosed with no family history or other known risk factors. The Centers for Disease Control and Prevention (CDC) recommends healthy living habits such as maintaining a healthy weight, regular exercise, getting plenty regular nighttime sleep, and avoiding carcinogens as well as to breastfeed any children one may have to reduce one's risk to breast cancer.
 The US Preventive Service Task Force recommends that women between the ages of 50 to 74 should have a breast cancer screening called a mammogram every two years. Women in their 40s should begin consulting with a doctor about when to start and how often to get screened, often influenced by any family history of breast cancer. Men can also get breast cancer, though it is rare; less than 1% of breast cancer diagnoses are found in men.
Breast cancer can present with a wide variety of symptoms or none at all. Symptoms can include a change in size or shape of one's breast, pain in the area, nipple discharge other than breast milk, or a lump in the breast or underarm. These symptoms can be serious and a doctor should be consulted immediately. Mammograms cannot prevent breast cancer, but it is much easier to treat when detected early.
NeedyMeds has over 200 national, state, and local programs that help individuals diagnosed with or at risk for breast cancer. These Diagnosis-Based Assistance programs provide financial assistance, mammogram screenings, medical equipment, prostheses, and more. We also have records on more than 4500 free, low-cost, or sliding scale medical clinics that offer women's health services. Search your zip code and check for "Women's Health" listed by Services to find locations near you. For assistance finding help near you, check the NeedyMeds website or call our toll-free helpline at 1-800-503-6897.