It is the time of year when parents and students of all ages begin preparing to go back to school.  They will be exposed to new experiences and ideas, but also higher stress and risk of exposure to viruses — including the SARS-CoV-2 coronavirus that causes COVID-19 and the proliferating variants. 
The ongoing pandemic has added challenges to every facet of life, including navigating classrooms. Returning to school has taken on new meaning and a new set of worries for students, parents, caregivers, and teachers. The decision on what classes and learning looks like is usually made on the local level by school boards and government officials. Overall, schools choose from one of three models: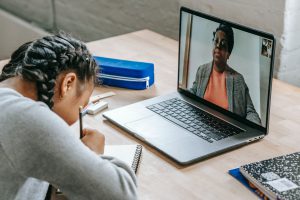 Distance learning.

All instruction is done remotely using technology and other tools.

In-person schooling.

Similar to traditional schooling with enhanced health and safety precautions and procedures, but risks infection for students/teachers/their families.

Hybrid schooling.

This model includes elements of both distance and in-person schooling.
Schools may adopt one or more models over the course of the school year and still-evolving pandemic. Being prepared for a variety of learning environments can empower you and/or your child/student and reduce any additional anxiety. In each case, there are steps you can take to reduce the risks of COVID-19, help your student feel safe, and make informed decisions during the COVID-19 pandemic.
Get vaccinated.

All adults and children over 12 years old currently eligible for COVID-19 vaccines should get fully immunized by the start of school year. People are considered fully vaccinated 2 weeks after their second dose in a 2-dose series such as the Pfizer or Moderna vaccines, or 2 weeks after a single-dose vaccine such as Johnson & Johnson's.
Wear face masks.

Everyone over 2 years old should wear face masks that cover the nose and mouth. This is a simple, proven tool to protect students and teachers indoors — even if they've been vaccinated.
Monitor health.

Be aware of any symptoms you may have, stay home if you are sick, get tested, and notify the school if you are at risk of exposure/infection.
Regardless of where they are learning, h​​ere are some tips for students of all ages to ensure a healthy and successful time learning:
Sleep is essential to keep children (and adults) focused throughout the day. Adults need about eight hours of sleep, while young children often need more. It's important to set a bedtime that ensures everyone gets enough sleep and to keep a consistent schedule.

To avoid getting sick and to prevent children from bringing germs home, it's important to teach children to wash their hands after using the restroom or before eating.

A healthy diet can help children grow and learn more effectively, as well as keep everyone's immune systems primed to fight off illness. Avoid junk food and soft drinks, and consider packing children's lunches with healthy snacks.

Going back to school is stressful for both parents and students of all ages; for some children, it may be a new sensation. Help manage stress by talking to children (or encouraging adult students to talk to someone) about anything bothering them and take care not to overload anyone's schedule. Schoolwork is important, but it is essential for mental health to relax, play, and spend time with family.

Going back to school during the ongoing pandemic can be a source of separation anxiety and other stress for children and parents. It is important to reassure children without downplaying the seriousness of COVID-19 or the importance of mitigation through masks and social distancing. It's best to acknowledge the situation in age-appropriate ways and offer support

. 

A significant stress for students and teachers returning to school is the atmosphere of fear that reflects America's history of mass shootings at schools. Simulated active shooter drills have been shown to contribute to trauma rather than relieve fears, and policies of harsher discipline and armed school staff increase the likelihood that people are exposed to violence

. 

It is imperative that children feel they can trust the adults in their lives and be connected as a community. An authoritative approach of structure, oversight, consequences, and support can help children learn responsibility for their behavior and how to reconnect with others; as opposed to an authoritarian environment of punishment, control, and containment which hardens a school instead of making it a better place with less violence and fewer problems

.

Student backpacks should never weigh more than 10-20% of a student's body weight, and should be adjusted properly to the bottom of the pack so it sits at their waist.  Encourage students to use both shoulder straps; slinging a backpack over one shoulder can strain muscles and hurt their back

.

If your student has a chronic health condition, ensure that the school nursing staff is aware and carefully go over any emergency plans with your child and school health personnel

.
Students of different ages may have different experiences in school, but these tips are a good foundation to staying healthy while learning and growing. If you are having trouble accessing vaccination or other services, NeedyMeds has a database of over 18,000 free, low-cost, and sliding-scale clinics all over the country. 
For those looking for information on receiving a coronavirus vaccine, eligibility has opened to include nearly all adults and children over 12 years old. There may be options for children ages 12-18 to get vaccinated even if their parents don't grant permission. Search online for your state's requirements, area's locations, and appointment availability.
The NeedyMeds Drug Discount Card can be of help for prescribed medicines, even over-the-counter medications if written as a prescription. The free discount card is also available as a smartphone app. For children affected by a chronic health condition, there may be academic scholarships or extracurricular camps and retreats available. 
For more information, visit the NeedyMeds website or call our toll-free helpline at 1-800-503-6897 Monday through Friday, 9am to 5pm Eastern Time.
If you are reading this somewhere other than the NeedyMeds Voice, please let us know!