Breast Cancer is a very serious condition that affects many women in America. According to the National Breast Cancer Foundation, "One in eight women will be diagnosed with breast cancer in their lifetime." It is also the most commonly diagnosed cancer in women, with over 220,000 women diagnosed annually in thde Unite States with an estimated 40,000 annual deaths. Breast Cancer also affects men, although it is more rare — "an estimated 2,150 men will be diagnosed with breast cancer and approximately 410 will die each year."  Breast Cancer affects each patient differently — "Breast cancer can begin in different areas of the breast — the ducts, the lobules, or in some cases, the tissue in between." There are also numerous types of Breast Cancer – non-invasive, invasive, recurrent, and metastatic. Luckily there are many programs available nationwide to help Breast Cancer patients pay for the costs of medicine, procedures, and more.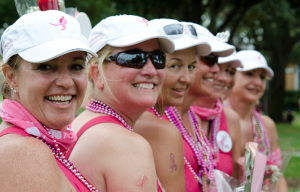 What Help is Available?
The first place to check for financial assistance with Breast Cancer costs would be our Breast Cancer Disease Information Page. This page organizes all of the resources available for Breast Cancer in one place. On this page you will find a list of all drugs that treat Breast Cancer. Those that are blue link to a Patient Assistance Program that offers the drug at a reduced or no cost. On this page we have also highlighted a number of Breast Cancer organizations including BreastCancer.org, the Susan G. Komen for the Cure Foundation, The National Breast Cancer Foundation, American Cancer Society, National Cancer Institute, Living Beyond Breast Cancer, Breast Cancer Research Foundation, American Breast Cancer Foundation, and Treatment Diaries.
The next place to check would be our Diagnosis-Based Assistance listings for Breast Cancer. This page lists national and state-specific programs for Breast Cancer patients. Currently over 200 programs are listed.
Some of the National Programs include:
There are many more programs available in addition to the ones mentioned above, providing services that range from equipment, home care, wigs, medical supplies, respite care and much more. There are also dozens of state-specific programs, so if there is not a national program that can help there may be a local program that can. For example the National Breast Cancer and Cervical Cancer Early Detection Program. Additionally you may want to check the Diagnosis-Based Assistance listings for Cancer – All and Chronic, Serious or Life Threatening Illnesses. We also currently have two camps available for patients with cancer and their families, as well as four scholarships for breast cancer patients and their children.
Know of any programs we may have missed? Let us know in the comments or send an e-mail to info@needymeds.org!