Labor Day is a national holiday to recognize and honor the American labor movement and the contributions of organizers and laborers to the development and achievements of the United States. Today, one out of every ten workers in the U.S. is a member of a labor union. Labor unions not only advocate for healthy and safe work environments; they improve the lives and promote the health of workers, their families, the community, and public health.
The labor movement has led the charge to protect working people from workplace injury, illness, and death since the Industrial Revolution. Unions in the United States have historically promoted and fought for healthy working conditions, safety and wellness programs, medical insurance, and democratic participation with support from organizations such as the American Public Health Association. Both labor unions and public health organizations intervene in the conditions that make people healthy through socioeconomic, cultural, and environmental conditions as well as individual choices, social and community networks.
Union workers are more likely to have access to health insurance coverage through their employer (95% vs 68% for non-union workers), including much higher take-up rates of dental and vision care (84% dental/79% vision vs 40% dental/23% vision for non-union workers). Perhaps because of this, labor unions act as a progressive force when affecting how healthcare is delivered including developing new models of direct primary care, promoting evidence-based care, and controlling pharmacy costs for their members.
Unionized workers are more likely to consider themselves healthy than non-union workers, with 85% of union members reporting being in good health compared to 82% of non-union workers. While the discrepancy appears small, the 3% gap represents 3.7 million American workers. Unionized workers earn on average 11.2% more in wages than non-unionized peers (workers in the same industry and occupation with similar education and experience), with even wider racial disparities between organized/non-organized workplaces: Black workers that are represented by a union are paid 13.7% more than their non-unionized peers; Hispanic workers that are unionized are paid 20.1% more. Other benefits often include contractually guaranteed retirement benefits, paid sick days, vacation time, and predictable increases in income — all of which contribute to making healthcare more affordable and reliably accessible.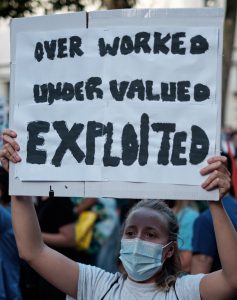 Labor unions don't just help union members; they improve conditions for all workers. Non-union workers benefit from the higher standards set by unions — including higher wages and comprehensive health insurance offerings — that non-union employers must compete with in order to attract and retain workers (and to avoid facing their own workforces organizing).
The COVID-19 pandemic has exposed how the United States fails to protect many working people without organized labor. "Essential" workers — often not unionized, low-income, and disproportionately women or people of color — have been forced to work without appropriate protective gear, little to no access to paid sick leave, and can face retaliation or firing for speaking out about health and safety concerns. Extended unemployment benefits have ended as COVID cases continue to rise throughout the country, and the Supreme Court ending the federal eviction moratorium could force millions of families into homelessness.
While the need for assistance continues to exist for many in the U.S., the NeedyMeds website has a database of over 18,000 free, low-cost, or sliding scale clinics across the United States and its territories. Search your ZIP code for clinics in your area to find free or low-cost medical attention. We also list over 100 nationwide resources for those who have been impacted by COVID-19. The free NeedyMeds Drug Discount Card can be used by anyone to help save money on their prescribed medication not covered by insurance — even over-the-counter medicine prescribed by a doctor. The card is available physically via mail, in a printable form, or as a smartphone app for Apple and Android devices. For more help finding information, call our toll-free helpline Monday-Friday 9am-5pm Eastern Time at 1-800-503-6897.
For information on organizing your workplace, resources are available through the Industrial Workers of the World.
If you are reading this somewhere other than the NeedyMeds Voice, please let us know!