The National Institute of Cancer says that colorectal cancer is cancer that forms in the colon or rectum in both men and women. It is the third most common non-skin cancer and is the second leading cause of cancer-related deaths in the United States. To help raise awareness of this deadly but highly preventable disease, March has been designated Colorectal Cancer Awareness Month.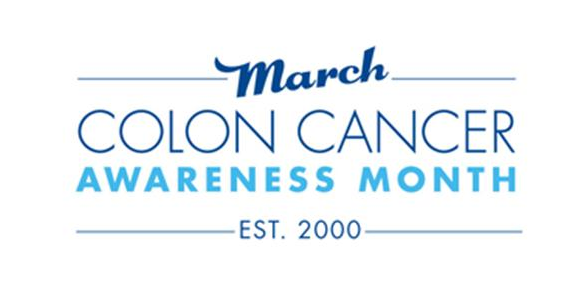 Screening is the most effective way to reduce one's risk of colorectal cancer; it is preventable and, if caught early, treatable. Risk increases with age, so people over 50 years old are encouraged to get screened. The Center for Disease Control and Prevention (CDC) recommends a variety of tests, from a stool test once a year to a sigmoidoscopy every three to five years and/or colonoscopy every 10 years. Despite the risks, 1 in 3 adults ages 50-75 are still not getting screened as recommended. Healthy lifestyle choices, such as being physically active, maintaining a healthy weight, not drinking alcohol to excess and being smoke-free can also lower your risk for colorectal cancer.
With 140,000 Americans diagnosed with colorectal cancer every year, it's important to know the warning signs.  More than 90% of colorectal cancers occur in people over 50 years old and may not always be symptomatic, which is why screening is so important. Symptoms may include blood in the stool, stomach cramps or pains that do not go away, and inexplicable weight loss. Other factors may increase one's risk, such as a family history of colorectal cancer or a personal history of inflammatory bowel disease. A doctor may suggest screening before 50 years old if you are at high risk.
NeedyMeds' Diagnosis-Based Assistance for Colorectal Cancer has information for national programs offering financial assistance as well as state programs offering testing for those at risk. Additionally, we have information on programs that provide assistance for those with any cancer diagnosis, such as travel expenses or medical supplies. Use our website to find assistance or call our toll-free helpline at 1-800-503-6897.