Autism is a common disorder, with 1 in 68 American children born somewhere on the autism spectrum.  From AutismSpeaks.org, "Autism spectrum disorder (ASD) and autism are both general terms for a group of complex disorders of brain development."  The signs of autism are usually apparent when a child is between 2 and 3 years old.  Symptoms are different for everyone, according to autism-society.org. "Some of the behaviors associated with autism include delayed learning of language; difficulty making eye contact or holding a conversation; difficulty with executive functioning, which relates to reasoning and planning; narrow, intense interests; poor motor skills and sensory sensitivities."  The cause of autism is still being researched and debated, although doctors generally agree that "There is no known single cause for autism spectrum disorder, but it is generally accepted that it is caused by abnormalities in brain structure or function.".  There are lots of programs available for children with autism and their families, ranging from summer camps to supplies and medications.
What Help is Available?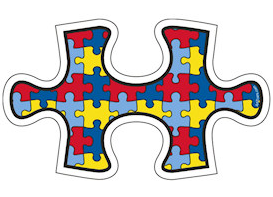 We have a number of resources listed on the NeedyMeds website for autism.  Our Autism Information Page should be the first place to look for assistance.  On this page we list all of the patient assistance programs  (PAPs) available for drugs commonly prescribed for autism.  These programs offer medications at low-or-no-cost to low-income families.  Simply click on the drug name to get information on the program (we list contact information and also have the application form available to download) and submit an application to apply.  We have also highlighted a number of Autism organizations:
US Autism & Asperger Association – Dedicated to Autism and Asperger education, support, and solutions
Center for Autism and Related Disorders – One of the world's largest organizations using Applied Behavior Analysis (ABA) in the treatment of Autism Spectrum Disorder.
Autism Society of America – The Nation's leading grassroots Autism organization
Treatment Diaries – An innovative social network that privately connects patients so they can share their experiences
The next place to check would be our Diagnosis-Based-Assistance listings for autism.  This page lists national and state-specific programs for autism, covering a wide variety of services.  Some of the programs listed include:
Blessings Unleashed, Paws with a Cause, and Freedom Service Dogs of America – Provide Service Animals
AutismCares – Provides non-medical financial assistance
ACT Today! & Good Charity Inc. – Provide medical financial assistance
We also have listings of 130 camps for children with autism and their families.  These camps are located all over the United States. Some operate year round while others are summer camps.  To find out more about Camps and Retreats, read our previous blog post.  Additionally there are three scholarships listed for young adults with autism.